Eurostar – St. Pancras

The Client
Eurostar is one of the world's most prestigious rail companies and operator of the first dedicated high speed rail line in the UK. In November 2007 Eurostar moved its central London terminal from Waterloo International to the new, purpose built St.Pancras International.
The Objective
With some 25 million passengers expected to use the St Pancras mainline, underground and international services annually, public safety is of paramount importance. To minimise the risk posed to the travelling public by its platform vehicles, used to replenish on-board catering points, washrooms and other facilities, Eurostar turned to the Davis Derby TruckLOG suite of products. Staff health and safety requirements, driver accountability and reductions in vehicle damage costs and energy consumption were also high priorities.
The Solution
Careful consideration of the unique set of challenges at St Pancras led Davis Derby to recommend the TruckLOG Driver Access Control Plus+ system with the shock sensor module. Smart Cards were selected as the means to restrict vehicle access to authorised drivers while the system's adjustable idle timer shuts vehicles down after one minute of inactivity.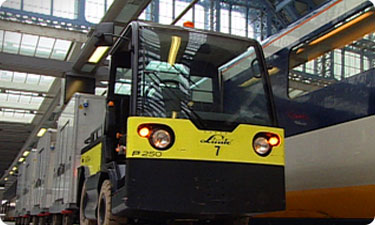 The Results
While helping Eurostar meet its health and safety obligations, Access Control Plus+ also integrates with specially developed software to report on impacts above the company's acceptable threshold. This in turn promotes responsible driving among operatives and reduces damage related costs. Further cost savings and increased energy efficiency are delivered by the idle timer. The Drivers' Smart Cards can be adapted to incorporate other technologies such as door access and shift attendance systems, thus encouraging a strong sense of ownership.
What The Client Said
"This system delivers the flexibility we need while putting the necessary health and safety, damage reduction and cost effectiveness measures in place. The Smart Card system allows only drivers who are suitably qualified, trained and authorised to operate our vehicles. What's also useful for us is that this system can be fitted to most types of new and existing vehicles." Peter Risebrow, Logistics Business Manager, Eurostar.