Our work
At Davis Derby, our bespoke design and manufacturing division creates solutions to a wide range of safety, communication and personnel tracking requirements in heavy industry and in hazardous environments. Davis Derby has long held an ATEX Quality Assurance Notification and an IECEx Quality Assessment Report issued by Baseefa which allows us to manufacture certified hazardous area equipment of our own, or in some cases customers' designs. Here, we have selected a few examples of our work to illustrate our range of capabilities.
Joy Mining, a long–time client, relies on Davis Derby for the manufacture of products including intrinsically safe digital opto–barriers, intrinsically safe PLCs and earth leakage units.
Intermec Technologies Corporation asked us to modify the design of their hand held scanner units to comply with European and US intrinsically safe certification requirements. We then designed a flameproof access point to communicate via radio with the hand held scanner. Davis Derby also manufactures both of these products for Intermec.
Recently we assisted Intermec in the design of a brand new hand held terminal to comply with the latest European, US and Chinese certification standards. This device is also manufactured by Davis Derby for Intermec who advertise it as 'The world's safest handheld computer'.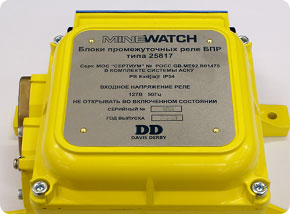 Working closely with Siemens Traffic Ltd, we designed and now manufacture an RFID traffic light control system. This is now in use in most major UK cities.
In conjunction with Salem Automation Ltd (now S3ID Ltd), we designed and obtained ATEX certification for an RFID multi-read personnel tracking system for use on oil and gas platforms. In addition we provided various ATEX-certified RFID transponders packaged in both 'credit card' and 'wrist-watch' styles.