Blocked Chute Probe
The Blocked Chute Probe is a versatile sensing device with a wide range of applications in mining and the materials and bulk handling industries.
An actuating probe is fitted to a plastic moulded weatherproof enclosure housing a microswitch and associated terminals When deflected sideways, the probe actives the microswitch.
Available with probe lengths of 12", 18" or 24" and an option of a switching function time delay of up to 15 seconds, the Pease Probe can be configured to detect:
blocked chutes
misaligned and torn belts
liquid levels
broken strands in haulage ropes
dead man's handle irregularities
vehicle movements
door positions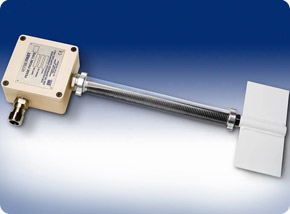 The Blocked Chute Probe unit is certified intrinsically safe to the CENELEC standard EN50 020 category EEx ia I.
Learn more about the StedFAST Pease Probe: