Fleet Management Information System ( FMIS )
Click on images for larger views...

Materials handling vehicles represent major overhead costs to manufacturing, wholesale, retail and transportation businesses - costs which can increase in the event of damage–related incidents and unsafe driving practices. Conversely, an effective management system can improve safety, efficiency and, therefore, profitability.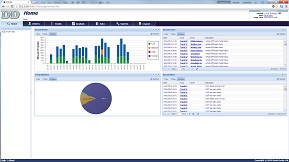 It's critical for fleets to demonstrate a return on investment through improved efficiencies and control of costs. In addition to the Driver Access Control, Pre Operational Check and Shock & Damage features our web enabled reporting software helps you to deliver this by optimising the fleet and manpower requirements, comparing analysis of drivers and vehicles and monitoring critical vehicle events. This may start with remotely scheduling the availability of your vehicles. This means that you can control when your Standby, Back-up, By the Hour and Core fleet can be used to suit your operation.
These schedules are extremely flexible and can be changed and sent to your vehicles to reflect changing operational requirements whilst giving you the control on your costs. Because we monitor key vehicle and driver data, it means that we can provide all the key information that you need to manage your fleet. We also provide exception messages ( Recent Alerts & Recent Events ) straight to your home page to ensure that you are aware of situations when they occur.
The Trucklog TK5 system is designed to provide you with all the information that you need to manage your vehicles and drivers, but only when you need it. This can include Hour Meter data to enable vehicle servicing and billing, calendar based Servicing and Thorough examination, Automatic Lost Card management, local & remote VOR and Two-way messaging.
Our FMIS is the definitive truck and driver monitoring and reporting system. This means that as well as reducing operating and leasing costs, FMIS can reduce damage–related costs and downtime, improve driving standards and help you comply with health and safety regulations.
So, your fleet leasing, operational, damage and maintenance costs all come down, while productivity goes up.

Click on images for larger views...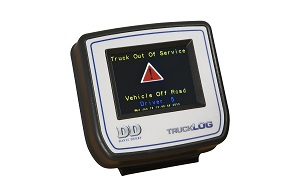 The TK5 FMIS will also help you develop and implement an enhanced health and safety policy. Smart Cards ensure that only licensed drivers can operate your vehicles while the time–out function also prevents them from being driven away if unattended. Should a fault arise on a vehicle, it can be safely disabled until an engineer arrives.


Furthermore, by recording data relating to driver log–ons and unacceptable shocks, FMIS assigns accountability to your drivers as well as logging active use against shift durations. This will improve driving standards and enable you to establish training needs quickly and accurately.
All of which will complement your risk assessment and maximise site safety.