Protecting people, plant – and profits
Mine productivity and personal safety have been priorities at Davis Derby for more that two decades. In this time we have led the way in product development, harnessing cutting-edge technologies and the potential of microprocessor based outstations.
The result is MineWATCH, a suite of products that put a mine of information at your fingertips, enabling you to monitor and protect people and plant and communicate clearly and effectively with all onsite personnel.
Products range from speech communication and audible warning systems, through comprehensive conveyor protection equipment, to fully integrated SCADA control consoles operable from distances of up to ten kilometres. Our access control and tracking range also offers valuable safety and security benefits.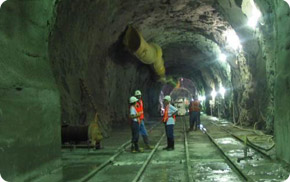 Created with maximum site safety and efficiency – and therefore profitability – in mind, all equipment destined for underground use is ATEX M1 certified and designed to the CENELEC EN50 European Standards.
Use the panel on the left to learn more about the MineWATCH applications and product ranges.